I have to say that I am so excited to have received some blogger love this morning. I recently joined an awesome blog called
A Law Student's Journey
. I think of her blog a lot like mine...a mix of life craziness, crafting, cooking and interests all smooshed into one fabulous blog.
I was very excited to see that she was having a "Linky Party", where folks post their info about their blog on her form and then receive a couple blogs to check out and give feedback on, as well as get some great feedback!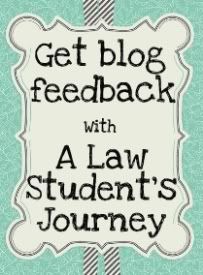 I was a recipient of awesome feedback today...and something both people mentioned was there was no way to easily follow my blog. Well....ta da!! I have added this feature to the sidebar. I am a bit concerned to display it as of now, as there are few followers...but hoping that that changes soon. :)
Thanks to the awesome, anonymous folks that gave me awesome feedback (more changes to come) and a
HUGE
thanks to
A Law Student's Journey.
Ash